Announce New Ric Ocasek-Produced Album
For All My Sisters
To Be Released March 24 on Arts & Crafts
Band Announces Spring North American Tour Dates, Three Intimate NYC Shows
The Cribs are pleased to announce details of their new album
For All My Sisters
which will be released in North America on Arts & Crafts on March 24th. Having reconvened over the last year in Wakefield, UK and Portland, OR, the band later decamped to New York and settled in at The
Magic Shop studio
to record with legendary producer and The Cars
'
frontman Ric Ocasek (Weezer, Bad Brains). The band's sixth studio album follows 2013
'
s career spanning
Payola
collection and 2012
'
s UK Top 10
In The Belly Of The Brazen Bull
and is The Cribs' first release for independent label powerhouse Arts & Crafts. A new label, a new perspective, a new challenge –
For All My Sisters
marks the start of the next chapter in a decade-long existence that has seen The Cribs continuing to evolve and thrill, ever advancing whilst stockpiling an enviable arsenal of songs.
For All My Sisters
is now a
vailable
for pre-order via
GalleryAC
and comes with an instant download of "
An Ivory Hand
", a teaser video for which the band shared a couple weeks back. The album's first UK single, "Burning For No One", will be released in NA as a digital single on February 17 through all discerning musical outlets, with iTunes pre-order of the album to follow. You can watch a video of
"Burning For No One" now at the link below.
The band will be touring in support of For All My Sisters, beginning with a handful of dates this spring. Their first shows in the US since 2012 will kick off with an intimate three-show residency in New York City. A special limited three-show pass for the New York show is available with the ticket pre-sale today. The Cribs will continue on to Austin for SXSW and then to the West Coast through San Francisco, Los Angeles, and more alongside performing at this year's Coachella Music Festival.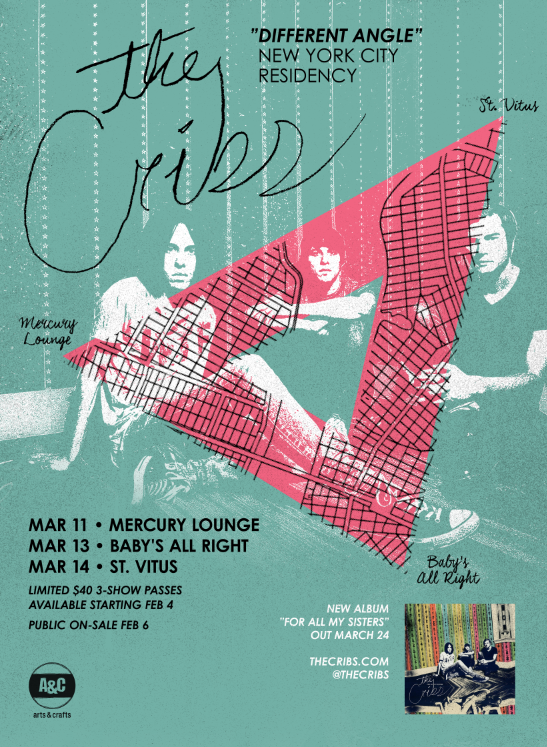 The Cribs On Tour
March 11 – New York City, NY @ Mercury Lounge –
Tickets
(on sale Feb 6)*
March 13 – Brooklyn, NY @ Baby's All Right –
Tickets
(on sale Feb 6)*
March 14 –
Brooklyn, NY @ St Vitus
–
Tickets
(on sale Feb 6)*
April 10 – San Francisco, CA @ Rickshaw Stop –
Tickets
April 12 – Indio, CA @ Coachella Music Festival
April 15 –
Santa Ana, CA @ Constellation Room
–
Tickets
April 16 – Los Angeles, CA @ The Roxy –
Tickets
April 17 – San Diego, CA @ Casbah –
Tickets
April 19 – Indio, CA @ Coachella Music Festival
For All My Sisters
Track Listing
1. Finally Free
2. Different Angle
3. Burning For No One
4. Mr. Wrong
5. An Ivory hand
6. Simple Story
7. City Storms
8. Pacific Time
9. Summer Of Chances
10. Diamond Girl
11. Spring On Broadway
12. Pink Snow